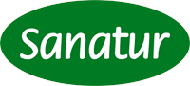 Why does Sanatur support the travels of Tanja & Denis Katzer?
Nuremberg, Biofach 2005 – The first encounter
Ingrid Schädler, Managing Director at Sanatur GmbH, says: "I was fascinated by the idea and, above all, by the joy and radiance with which Tanja and Denis Katzer told me about their adventures at our stand at Biofach 2005. I could feel their love and respect for nature and for human beings. At Sanatur, we also focus on natural products and human beings when we develop natural food supplements and natural cosmetic products containing microalgae.
If you reach your physical and psychical limits, as experienced by Tanja and Denis, your body needs an optimum amount of nutrients. Being our most important protective organ, our skin needs particular care during such tough times. This is why were are delighted to support the friendly and congenial couple on their travels by providing organic Spirulina and Chlorella microalgae in top Naturland quality as well as natural cosmetic products containing organic Spirulina.
These tiny plants are as unique as the two people's adventures. Spirulina was one of the first living beings on this planet and was much appreciated by the ancient advanced civilizations. Chlorella, which owes its name to the natural content of chlorophyll, is enjoying an increasingly stronger focus in medical studies. Thanks to the high concentration of vitamins and minerals, both microalgae are ideal as food supplements – not only in extreme situations but in our every-day lives.
Sanatur GmbH
2003 – Introduction of organic standards for Spirulina microalgae.
2005 – All Sanatur production facilities, warehouses and offices undergo a thorough energy-efficient refurbishment and are protected against electric smog and geopatic stress (water veins, faults, terrestrial radiation, …)
2008 – Our ZinkSpirulina & Acerola product is tested by the renowned scientist, Prof. Dr. rer. Nat. Peter C. Dartsch. Owing to its extraordinary combination and premium quality, ZinkSpirulina & Acerola becomes the focal point of a research study and publication.
2010 – Sanatur's partner company who produces all of Sanatur's microalgae receives the "Bronze Award" for organic technology and organic cultivation for the second time, as well as the "Award" for Innovative Industrial Technology in Taiwan.
2011 – Fukushima – Sanatur extends its quality controls: in addition to the standard examination parameters such as microbiology, heavy metals, pesticides and algae toxins, we subject all products to tests relating to radioactive isotopes.
2012 – New recipe for our SpiruSkin microalgae cosmetic system. The new SpiruSkin products do not contain any parabens, mineral or paraffin oils, polyethylene glycols (PEGs), allergenic fragrances or dead animal substances.
Sanatur continues to be one of the leading providers of premium quality microalgae products and natural food supplements. Our top-quality organic microalgae and our know-how are much appreciated all over Europe by our sales partners and customers alike.