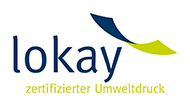 We are pleased about the cooperation with Tanja and Denis Katzer. Why

Tanja and Denis Katzer and the printing company Lokay have something in common: a path taken by conviction. Just as the two adventurers one day deliberately made the decision to consistently go their own way, so did we! More than 10 years ago, we decided to make our printing company sustainable. Without a firm conviction and the clear goal in mind, we would not be so successful today. As with Tanja and Denis, the path we have taken has meanwhile also become a journey for us. Again and again we come to bifurcations on our way - and decide on sustainability.

We like to support Tanja and Denis with impeccable environmentally friendly print products. This is our little contribution to actively support the commitment and the consequence of the two sustainable adventures.

BEST PRINTING QUALITY FOR OVER 75 YEARS

Since 1932, the printing company Lokay from Reinheim, with meanwhile almost 30 employees, produces high-quality print products for sustainably oriented people from Germany and Switzerland. Honored as the "Environmental Printing and Family Printing Company of the Year 2010", the Hessian printing company was even nominated for the European EMAS AWARD last year. All processes - from power supply, paper to printing ink - have been tapped and changed by the company for ecological improvement options. For example, Lokay was one of the first climate-neutral printing companies in Germany. All machines have been running isopropyl alcohol for many years without the climate killer and Lokay uses only mineral oil-free organic printing inks - that's not even done by 10 percent of German printers. The large Lokay paper collection of environmental papers was the first of its kind in Europe and is exemplary to this day. It takes a lot of staying power to move to a thoroughly greener business, and more so in the printing industry. Processes and actions must be constantly monitored and questioned. At Lokay, this process is carried by all employees. It works because the employees got excited about it. You will be informed about every step, professionally and personally promoted and, above all, involved. For example, the introduction of Germany's first leasing bicycle fleet, for which Lokay received many awards, was based on an idea from the environmental team of its employees. Also in relation to the EMAS certification, the printing company is a pioneer. Less than one percent of competitors have previously ventured to face stringent annual audit and reporting criteria. "Our customers from all over Germany buy from us because they receive flawless, ecologically credible print products," explains owner Ralf Lokay. But there is more to a role model company. Lokay shares his experience at specialist lectures, trade fairs and industry gatherings. Printing companies from all over the world are seeking an exchange with the Hessian printing company. In the past two years alone, about 90 printers from South America and Japan visited the company. This productive openness is part of Lokay's mission to not only be Germany's most eco-friendly sheetfed offset printer, but also to make a positive change in the industry in general.