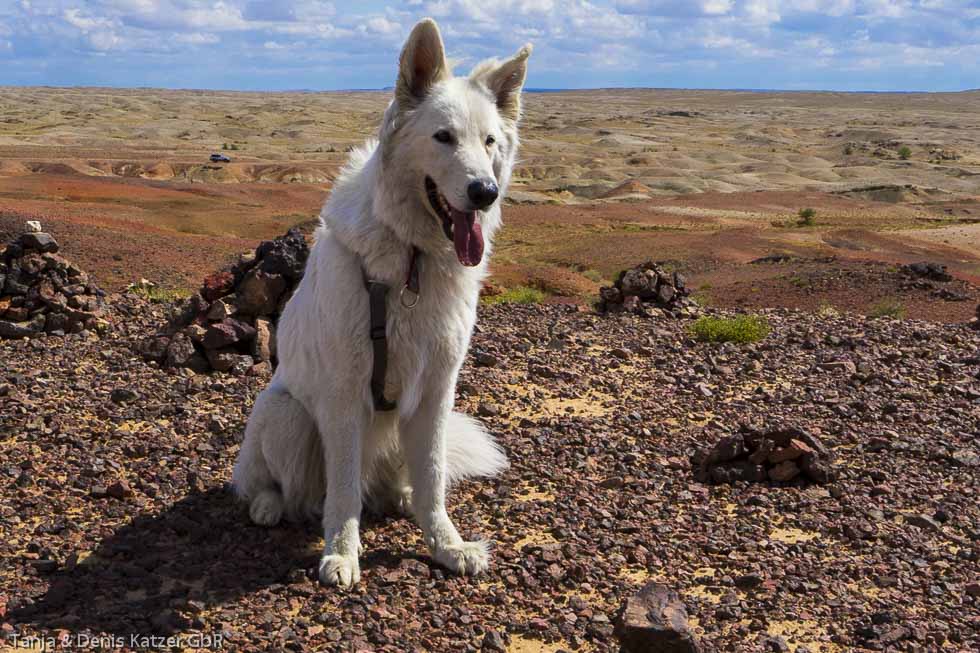 Me in the Gobi Desert.

LINK TO THE ITINERARY

Here I am now, lying around in a small room in the border city of Kyakhta. My people (Denis and Tanja) are busy with writing, so I have occupied myself with thoughts. With the arrival in Ulan Ude Siberia, a completely different and new world has opened for me. Everything smells different, the sounds of the city are unusual as also how people respond to me. Some always look surprised, some admire me and some are really afraid of me too.

Fortunately, Tanja has discovered a beautiful park. This is where we do our daily rounds now. I like the city Ulan Ude best. I have sealed a few strong friendships with animal friends at the town square. Horses stand around in the heat waiting for children wanting to ride their backs across the square. We go past the place daily and have found that the girls have been treating the horses nicely. Boy, boy with that kind of heat, it is good to see that my new friends are supplied with water in abundance!

Now finally we have commenced our journey and I spend most of the time in my comfortable trailer. "You can run next to us when there are fewer cars", Tanja comforted me. Not all villages have such a beautiful park such as Ulan Ude.. It's raining in Gusinoosjorsk.. It's mushy, shards are lying on the road and slopes are flooded. Due to that, Tanja has turned the long corridor of the hotel into a bowling alley and I am asked to fetch the ball. We have crazy fun and for a while I think to myself that I can spend the rest of my life like this. That is of course nonsense because all that I wish to experience in this big wide world is waiting for me.

The absolute highlight of the journey through Siberia is camping in the forest. A wonderful piece of Earth. My bed is next to the bikes overlooking the tent. Right up my alley. All night I am attentive and listening in the darkness to warn my people in time if something is coming. Incredibly satisfied and happy, I asleep a little in between, only to wake up again to keep a watch in the darkness of the night.

As far as my food is concerned, I have been lucky in Russia. There is indeed good dog food for me. In addition, I'm spoiled with Quark and once in a while with an egg. Quite in contrast to my Siberian colleagues. The dogs that live here on the road and in the Park, are usually scared of me and are quickly driven away by people if they come near them. Others live behind the fences with their families. Some of them are allowed to walk freely but many are tied on to the chain. As we ran by, there was a deafening bark. But I've learnt that it makes no sense to bark back and kept running further.

I take my role as a watchdog very seriously. When Tanja and Denis are away together, I guard the room and take care of our luggage. The staff let me be in peace this time. I believe that my size is enough to command the necessary respect out of them.

Now the hours of my stay in Siberia are numbered and I wonder how it will be in Mongolia.. the country in which Tanja had dreamt of me.


The live reporting has been facilitated by the firms Gesat Ltd. (
www.gesat.com
) and Roda Computer Ltd. (
http://roda-computer.com/
). The satellite phone 'Explorer 300' of Gesat and the rugged notebook 'Pegasus RP9' of Roda are the pillars supporting the transmission.