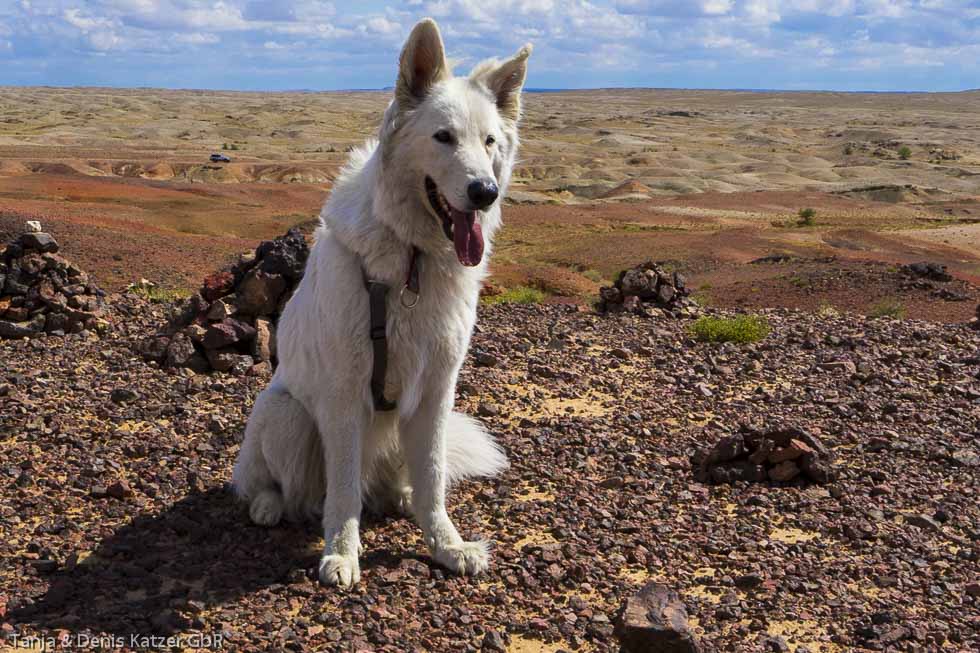 Me in the Gobi Desert.

LINK TO THE ITINERARY

My people (Tanja and Denis) had a copy of the train schedule by which they accurately knew when and where the train would halt. But the point to be noted here was.. how long. This was so, as me having to go for my walkies was of paramount importance. Of recent, my walking rounds were not as detailed and long as I was lucky to not be under a lot of 'pressure' on this trip!!! What my people had not told me before this trip was that they had put me on half the ration than usual. There was only breakfast instead of two meals per day. That itself was a difficult thing to swallow for a dog, in case there were no more bread chunks to eat. However, I didn't mind this, you know, I wanted to be there and I had learnt that I would have to let go of my comfort zone.

My encounters on the train were also interesting. A mini colleague named George was travelling with us. The poor fellow started trembling as soon as he saw me. Nevertheless, he trusted me when I told him that I would not have him for breakfast, as I was not hungry. The small rounds of the train stations were now a bit more entertaining and George helped me with my first Russian knowledge.

As we got back on the train on the train station, I couldn't believe my eyes!! A lady with a cat had already made herself comfortable in the compartment next to ours. Admittedly, an epitome of prettiness. Her complexion was as white as mine (with some brown accents) and her name had a tingling sound to it.. Kusa. She was travelling with a box. However, I had an impression that the cat sat in the ladies lap most of the time.

Further, I was particularly impressed with an encounter with a small, wiry, brown-black type of guy. Actually, I wanted to greet him with a "Privet kak dela (Hello how are you) slug" because he was bald. Luckily, I wasn't too cocksure in the beginning. As a quick shot, I would have risked a jaw with him. Somja had a white Mohawk.. he trained daily and was an agile buddy. To keep himself fit on the train, he used to train himself with pull-ups on a front rod in the train. Unfortunately, he was not to travel with us.. But I would have liked to know more of him..


The live reporting has been facilitated by the firms Gesat Ltd. (www.gesat.com) and Roda Computer Ltd. (http://roda-computer.com/). The satellite phone 'Explorer 300' of Gesat and the rugged notebook 'Pegasus RP9' of Roda are the pillars supporting the transmission.