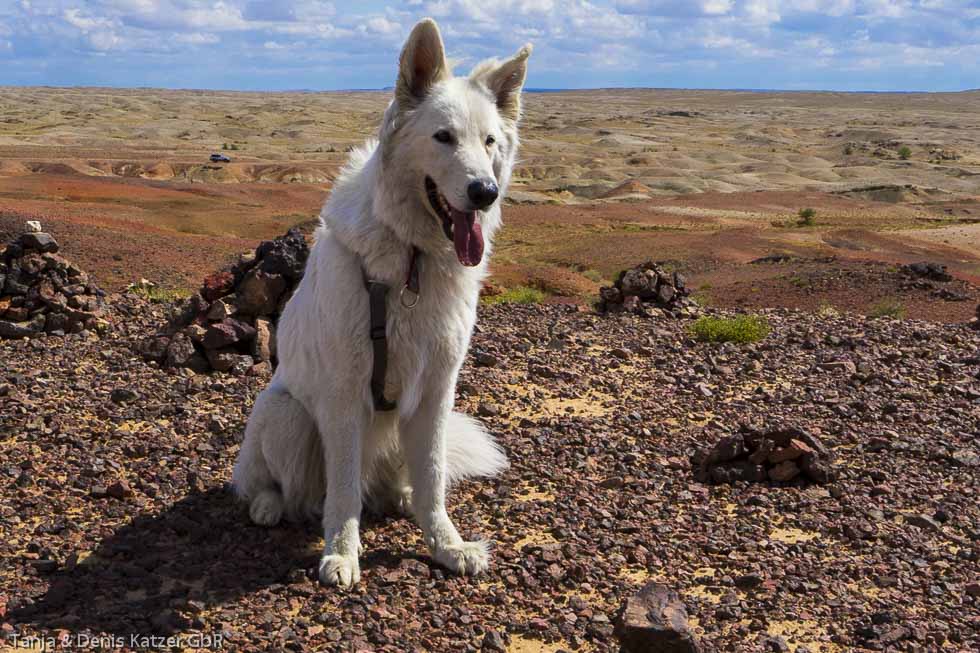 Me in the Gobi Desert.

At 8:15 am, my friend Diego is standing at the door as though I had never been away. A little inhibited, I romped with him through the forest. I remember our experience we had a few weeks ago. I named that day as Black Friday. I thought I would die! It was one of these 8:15 o'clock days. We played with each other in the forest and suddenly I couldn't breathe. Diego held on to me and didn't let go. I got annoyed and wanted to bite him so that he would let go of me. He too got angry and snapped at me. I was scared to death and noticed that my friend didn't feel any better. We became desperate and started biting around. Just when I realized what was happening to me, the world started spinning around me and I nearly fainted. Diego got his lower jaw under my collar. He overlapped once, as a result of which the neckband pressed into my throat and I couldn't breathe anymore.

My buddy Diego was not in a good condition either. He hung his long tongue in the loop of my collar and within a matter of seconds his tongue and his jaw got stuck in it. He told me later that he was very scared. We miraculously freed ourselves from each other. However, we looked dazed. Our people looked at us exclaiming "Thank Heavens!" Thereafter, we ran our usual rounds. Tanja carefully watched me through the morning. She also asked Denis whether it looked like my eyes were popping out. Denis said, "Yes, he looks a little strange."

At noon Tanja took me straight to the vet. Since I knew how the door looked from outside, I showed my reluctance to go inside. Although, I must admit at this point that I received quick help. I was administered a penicillin shot which prevented the swelling of my eyes, relieved the pain and relaxed me. However, Tanja was heavily affected by the incident. But fortunately, it was in the past now and my friend Diego too, is doing well now. I think I wounded him a little in the eye though. But he too, is on his way to recovery. We are now walking together through the forest and I am looking forward to spending some time with my friend...


The live reporting has been facilitated by the firms Gesat Ltd. (
www.gesat.com
) and Roda Computer Ltd. (
http://roda-computer.com/
). The satellite phone 'Explorer 300' of Gesat and the rugged notebook 'Pegasus RP9' of Roda are the pillars supporting the transmission.