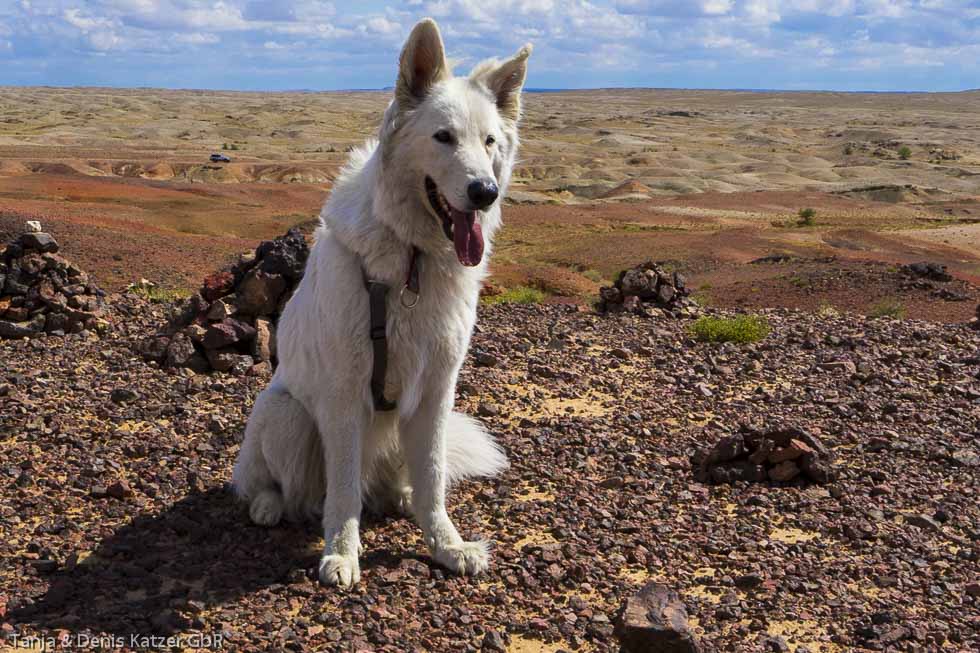 I in the desert Gobi

The D Day is finally here! My friend Henkie came over for a farewell and whispered to me saying, "Bon voyage my friend". The influence of his Dutch family didn't lack though. He gifted me two Dutch lucky charms for my caravan. "Nothing can go wrong now.", I thought to myself. Sometime later, I found myself in a train compartment. I rolled myself comfortably before Tanja & Denis's bed. After a while, I slept with the satisfaction of having managed to be on the Big Journey with my people and being so close to them. The next morning we boarded another train. The round which I usually had through the forest, was missed.

After a while, we left the train faster than I could look. Everything went so fast that I was glad that the two did not forget me on the train. There after, Tanja & Denis made a few calls and we stayed in a dog friendly hotel for the night. I have my dog snack in my luggage and my world is fine. The life of an expedition dog can get confusing occasionally...



The live reporting has been facilitated by the firms Gesat Ltd. (www.gesat.com) and Roda Computer Ltd. (http://roda-computer.com/). The satellite phone 'Explorer 300' of Gesat and the rugged notebook 'Pegasus RP9' of Roda are the pillars supporting the transmission.