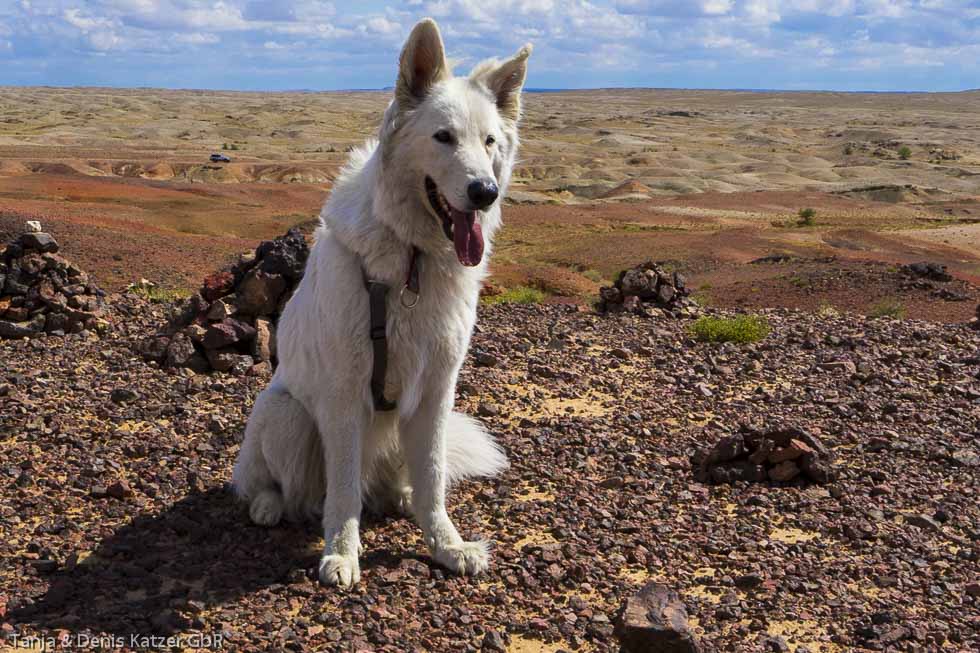 I in the desert Gobi

Its always awesome to play and chill with my friend Sam! Sam is a year older than me and has collected most of his experiences from his original home in France. Somehow he landed in a german animal shelter in our vicinity. He found his new home with Tanja & Denis's friends who lived just around the corner. Beaming in the snout, Sam would describe it to me as "A lottery win"!!!!!!!! J

I told my good friend, "I've already taken a step further, as I've now been allowed to travel and Denis has arranged a caravan for me. And guess what!!! The caravan will also have a roof carrier, so that Tanja can still take some other additional items along".

"Liberty!!! My Bestie, if you wish to take some advice from an experienced dog, please understand that you have to remain independent. Freedom is everything, and that comes only with a backpack…!"

And so we opened doors to a revelation of the great wide world. Sam told me of his time in France… Streetcafes, red wine, cheese and baguette. It seemed that France had a touch of lavender in the air, mixed with the smoke of a cigarette and the conversations of passersby. However, Sam only had eyes for a beautiful Mademoiselle…

I am going to miss Sam…



The live reporting has been facilitated by the firms Gesat Ltd. (www.gesat.com) and Roda Computer Ltd. (http://roda-computer.com/). The satellite phone 'Explorer 300' of Gesat and the rugged notebook 'Pegasus RP9' of Roda are the pillars supporting the transmission.