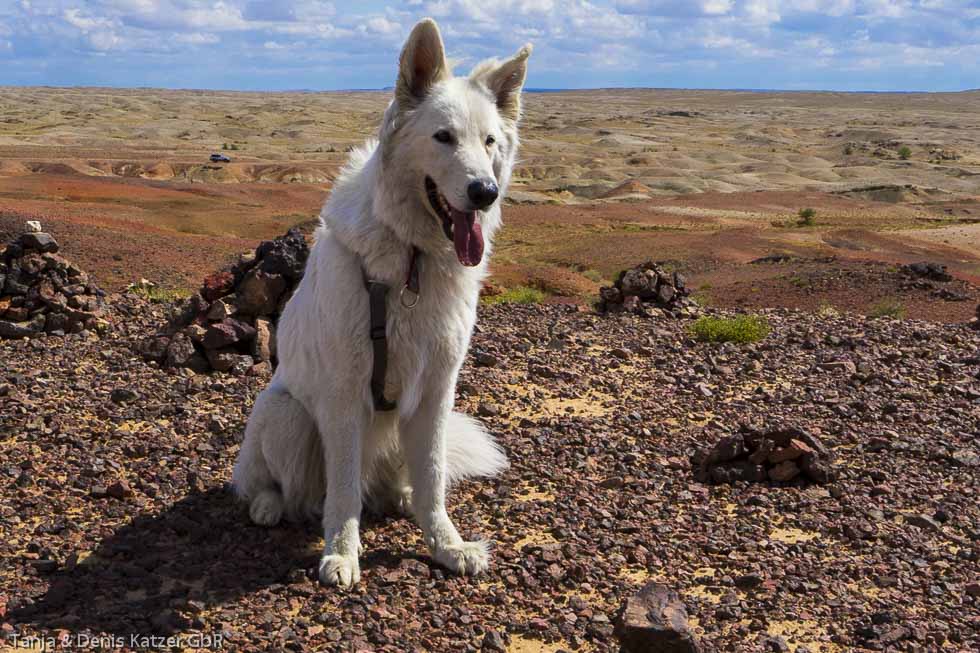 I in the desert Gobi

The best thing to do would be to start at the beginning:
Tanja had dreamt of me in a Taiga forest in Mongolia… However, she did not know that everything would go so fast. Tanja and Denis (my people) spent a winter in Mongolia with the last Tuwa nomads. The howling of the wolves in the night inspired Tanja to wish for a white wolf dog name Ajaci. However, she did not know at the time that I was about to enter her life… So people, take care of your wishes, as they can be fulfilled faster than you would believe! After travelling for 15 months, my people (Denis and Tanja) returned to Germany. Unfortunately, the good times didn't last long and Denis's parents fell sick and Denis and Tanja had to go through a sad and exhausting time. Actually, they did not want to get a dog so quickly, as my predecessor Rufus (http://denis-katzer.de/de/team/itemlist/category/59-rufus-katzer) had passed away only in 2011. Further, having a dog meant responsibility and also needed to be looked after when Tanja & Denis were away... But Denis said, "It's all so sad, we should bring life and happiness back into the house," and that's how I moved into Katzer's house. A friend of Tanja and Denis agreed to take care of me when they hit the road again.

My puppy life was super and I noticed so much about Tanja and Denis. An expedition and a travel life sounded cool, I thought. I was really lucky. However, there came a point that I did not like at all. It was planned that I would stay back in Germany with Gabi and Tobi (who were friends with Denis and Tanja). The two are real super, totally loving, have a big garden and a even bigger heart and would surely take good care of me, but I wondered about the future when I would be a little older. A plan had to be worked out… And people, believe me… it was easy. When ever I visited the both, I used to bite Gabi's calves as often as I could, with my milk teeth, which were very pointed. I must say it was very difficult for me as Gabi is a wonderful person. But the purpose justifies the means and I think you are fully on my side, when you consider that my focus was on the trip with Tanja & Denis! I got too exhausting for Tobi as I just wanted to go out at 3 in the night. You get a super dislike bonus too when you make people take you out for walks in pouring rain, until they are out of breath! Well, Tanja and Denis were soon clear that they cannot leave their hooligan with Gabi and Tobi. But people are not always simple.. so they had a plan B.

Plan B was an other couple, also friends of my people. They made me get acquainted to a girl dog (bitch), during the day I would stay in a large free pen, twice a day extensive walk rounds and they would let me spend the nights in the house ... Unfortunately for me this was not an option at the moment. If I was old, it could certainly be looked at as an great way of living space. But here I was, only of two and full of viability. So I too, came up with a plan very quickly. I behaved like a monster when they took me out for walks and the people who knew Tanja & Denis could hardly hold me. It was only with great effort that they brought me back into the free pen without any bad mishaps. I could tell myself that the operation had succeeded, when he (the friends of Tanja and Denis) called and said, "We are going to have a young dog soon. Sorry 3 dogs are too much. You have time to find a place for Ajaci." The emergency brake/last option would have been professional accommodation. That option wasn't considered workable after my people heard the cost that it would take to go through that.

So on a white Friday which was also my second birthday (I call it white Friday firstly because I am white and secondly as it was a Friday that changed my life….. so a happy day!), I asked Tanja, "Why do you actually have a dog?". Normally, I love to jump in the woods, to hunt the ball and the stick, but on that day I just took Tanja aside and asked her the ultimate question: "Why do you have a dog and not take him with you?" Tanja looked deeply into my eyes, stroked me lovingly on my head and said: "True"...

Now there was another challenge.. Tanja had to convince Denis that they could take me along!

"Are you crazy?" Denis told Tanja when she asked whether they could also take their loving dog along. "Let us think about it practically and decide tomorrow," suggested Tanja. 24 hours later, Denis did not find the idea of taking me along to be as bad. Now what would one need to take a large Canadian Sheperd on a bike trip had to be thought of. This included the various quarantine regulations of the different countries, vaccinations, international vaccination certificates, etc. The decision to take me along on Tanja's and Denis's schedule was stressful to say the least but it looked achievable as well…



The live reporting is supported by the firms Gesat GmbH: www.gesat.com and roda computer Ltd http://roda-computer.com/ The satellite phone Explorer 300 from Gesat and the rugged notebook Pegasus RP9 from Roda are the supporting columns of the transmission.