Denis Katzer & Tanja Katzer

We've been on the road since 1991: on foot, by elephant, camel, horse and bicycle. In 2012 we have begun a bicycle trip around the world We want to have one sponsored tree planted in Germany for every kilometer over the 25,000 km between Bavaria and Burma (Myanmar), one tree per kilometer. The Green Artery tree planting sponsoring project came out of talks with the Rapunzel organic food company and Bergwaldprojekt e.V. members.
Our life trip is also a bridge between us people and the nature with which we are connected inseparably. With the "green vein" we want to make a contribution to receive the variety and beauty of the nature. Together with the Bergwaldprojket (mountain forest project), we are involved in the nature reserve Spessart in the living space of the European wildcat.
---
The European wildcat
The European wildcat (Felis silvestris silvestris) finds on quiet paws back to her hereditary areas - the woods of Germany. Germany lies in the centre of the spreading area of the European wildcat. It could be proved to gratifying manner during the past years again in Black Forest, Hunsrück, Rhön, Fichtelgebirge, resin and in the Spessart. Therefore, we bear in our woods also a special responsibility for the preservation of this threatened kind.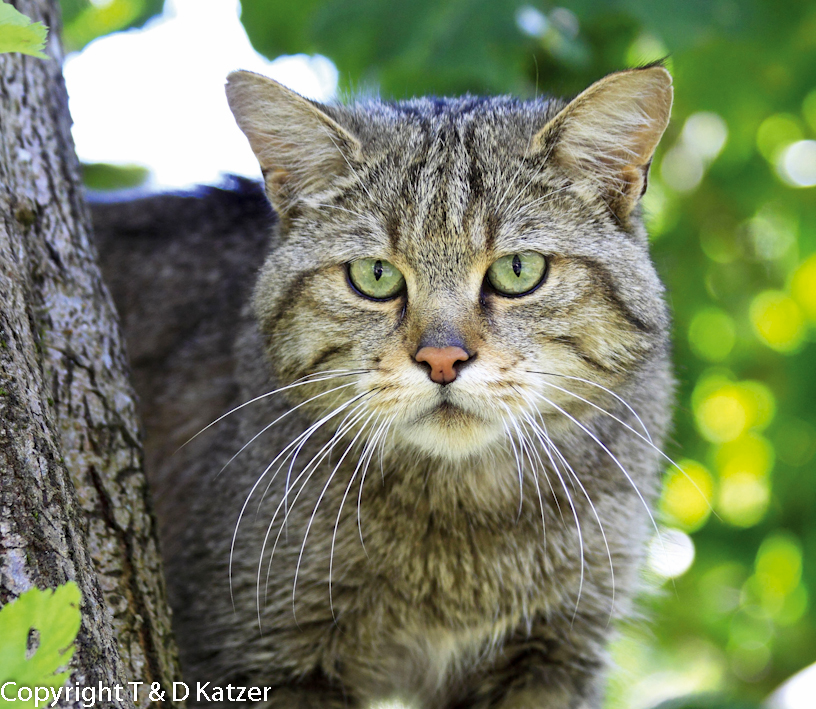 ---

Click here to watch picture gallery
---
The "Bergwaldprojekt"
The Bergwaldprojekt e.V., a registered charity in Germany, wants to highlight the problems in the forest and help in a targeted, hands-on way. That is why it offers people from various walks of life and organisations the chance to work as volunteers during organised project weeks. Others show their commitment to forest ecological systems by providing expert forestry advice and/or by making donations of money or equipment. 
In that way, Bergwaldprojekt can make an active contribution to near-natural forest transformation and ecological forest use. "Mother Earth is alive." We, Denis and Tanja, have experienced a lot of Nature on all our trips. We have a strong need to do something for Mother Earth: she is part of us. So we want to look at what we can do, what positive effect we can have, and not just moan about and condemn what is wrong.
All of us are responsible for our actions.
We want to be a good example and do something good for Mother Earth. We would like to touch people's hearts with our Green Artery tree planting project, we would really like you to take on responsibility.
"Mother Earth Lives"
Every journey starts with a small step… if we take care to produce a little bit less trash and rubbish every day, that is already a lot: if we use less paper, then waste paper in Germany alone would go down by a huge amount. 
We just ought to pay more care, be more aware, and treat everything more gently, because we can't take anything for granted in this life…..life is a gift! We are all ONE, part of a WHOLE. This intimacy can give us a lot of strength, if we become more aware of the love and respect that people should have for Creation.
Our goal: to plant 25,000 sponsored trees in Germany for Bergwaldprojekt on our journey. Become a sponsor in our "Green Artery" project and help us to plant something big! Tanja and Denis do not profit from the tree planting project. All sponsoring money will go only to Bergwaldprojekt (www.bergwaldprojekt.de): you can buy a tree for the equivalent of five Euros and have it planted. And Bergwaldprojekt's volunteers will plant the trees only where they are needed in Germany.
---
Do you want to support the Green Artery project?
Become a sponsor at:
Bergwaldprojekt e.V. 
Catchword: Grüne Ader 
GLS Gemeinschaftsbank 
BLZ 430 609 67 
Kontonummer 8022 916 200
We will be reporting on our trip and the Green Artery at regular intervals in our 
or interactive on the: